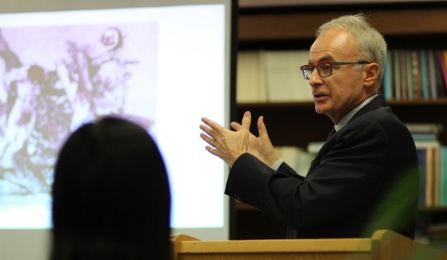 Welcome to my site! I am Professor in the Department of English and Cultural Studies, Associate Member of the Department of Health, Aging and Society, and a member of the Council of Instructors in the Arts & Science Program at McMaster University.
I teach courses in Critical Theory, Queer Theory, Critical Animal Studies, Romantic literature, Social and Political Thought, and the history of HIV/AIDS activism. To get a sense of the range of my research interests, feel free to take a look at Publications.
Research topics that currently activate my critical imagination include:
Representations of armed conflict and the hope for peace during the Revolutionary and Napoleonic Wars.
Images of and figures for the desecration of the dead, especially the war dead, around 1800.
The complex fate of non-human animals in philosophy from Immanuel Kant to Jacques Derrida.
The responsibilities of the public university to stand for peace.
The work of Immanuel Kant, Friedrich Schelling, Jacques Derrida, Paul de Man, Judith Butler, Eve Kosofsky Sedgwick, and Michelle Foucault remain touchstones for both my teaching and research. Their work quickens the following questions for me:
What are the limits of knowledge?
What are the histories, politics, and ethics of being-embodied?
What relationships join knowledge, action, and responsibilities for others?
What does it mean to dwell with others?
To recall Kant's great queries: What can I know? What must I do? What am I permitted to hope for?
I was George Whalley Visiting Professor in Romanticism at Queen's University in 2012 and Lansdowne Visiting Scholar at the University of Victoria in 2013. I have also twice been Visiting Professor at the Centre for the Study of Theory and Criticism at Western University.
In 2006 I was honoured to be the recipient of the McMaster Student Union's Annual Teaching Award. And in two national surveys, I was described as one of McMaster University's "Popular Professors" (Maclean's Guide to Canadian Universities 2005 and 2006), but this is a description about which I have deep reservations. Popularity with my students is not what I seek; what I seek is curiosity and intellectual courage and a commitment to the task of becoming a public intellectual. What I seek is the student devoted to thinking more complexly and writing more persuasively. Mindful of what Socrates teaches, my goals are to encourage certain forms of impiety in students, and to corrupt their minds. (For a more detailed account of my understanding of the meaning of teaching and learning, see Thought and Theory.)
____________________________________________________________________________________
Recent and Upcoming
What the discovery of the remains of Indigenous children means to teachers, including me.
ACLA 2021 Paper:  "We Do Not Know What a Body of Theory Can Do: Romanticism in the Pandemic"
"Abolish the University: Build the Sanctuary Campus"
"We do not know what a body of theory can do: Romanticism and the Pandemic," Romantic Circles Unbound 20.2 (Autumn 2020).
"On Animal Faith," Dust and Shadow: Reader #2, Arizona State University (2020)
"Blake's Decomposite Art: On the Image of Language and the Ruins of Representation." In William Blake: Modernity and Disaster. Eds. Joel Faflak and Tilottama Rajan. Toronto: U of Toronto Press, 2020. 233-261.
"Last Words:  Voice, Gesture, and the Remains of Frankenstein." In Frankenstein in Theory. Ed. Orrin N.C. Wang. New York: Bloomsbury, 2020. 13-31.
Recent and upcoming invited talks and conference papers include:
"Quarantine Theory," ACLA ("Arts of Inoperativity"), April 2021.
"Quarantine Theory," Modern Language Association, 8 January 2021.
"Lastness, Lateness, and Other Romantic Leave-Takings," (Plenary Seminar with Jacques Khalip), Late Romanticism Conference, U of Leuven, Belgium, 13 December 2019.
"Monstrous Philology: On Frankenstein's Translations." University of Maryland-College Park, 9 November 2018.
"'Great Deeds! With the Dead!' Romantic Wartime and the Desecration of Corpses." North American Society for the Study of Romanticism, Brown University, 23 June 2018.
"Can the University Stand for Peace? Omar Khadr, Higher Education, and the Question of Hospitality." Humanities Institute, Simon Fraser University, 9 February 2017.
"Anti-Islamophobia and Student Activism." Ontario Institute for Studies in Educaiton, 4 April 2017.
"Life Less: Charles Bell, the Napoleonic Wars, and the Cadaver-Image." North American Society for the Study of Romanticism, University of Ottawa, 11 August, 2017.
"On the Promise of Peace: Kant's Wartime and the Tremulous Body of Philosophy." Emory University, 4 December 2017.
"'I won't tear into you:' Derrida, Levinas, and the Autobiographical Animal," Emory University, 5 December 2017.
____________________________________________________________________________________
M.A. and Ph.D. Projects
In addition to my desire to create informed and unsettling classroom experiences for my undergraduate students, I am committed to fostering a rigorous and capacious educational environment for students enrolled in our graduate program, an environment quickened by critique, responsibility, and academic professionalism. I warmly welcome M.A. and Ph.D. research projects that produce or explore connections between different disciplines, discourses, and objects of analysis. Of particular interest to me are projects that address the following concerns: questions of embodiment, subjectivity, responsibility, mourning, animality; contemporary critical theory, especially its intersections with Enlightenment and post-Enlightenment philosophy; German idealism as a site of theorization about affect, desire, and loss; representations and politics of health and illness.
I especially welcome students who are working with critical theories and cultural archives from a wide range of historical periods leading up to the present day. In other words, I want to recognize and affirm the critical power and conceptual significance of critical theory developed before–as well as during–the twentieth and twenty-first century.
To get a sense of the kinds of research conducted by my graduate students, see Graduate Supervision.
Moreover, because contemporary critical theories are deeply informed by their historical antecedents, I encourage research that explores the links joining what is imagined to be the "present" to what is imagined to be the "past." How do current critical theories help us re-read earlier interrogations of and negotiations with analogous questions and problems? And how does this historical archive provide a new optic through which to consider today's complexities? How to write what Michel Foucault calls "a history of the present"?
In 1996 I received the President's Award of Excellence in Graduate Supervision, an award for which I was also short-listed in 2002. From 2001 to 2005 I was a member–and then co-chair–of the Appraisal Committee (Section II) of the Ontario Council of Graduate Studies, the body that overlooks the quality of graduate education in all of the province's graduate programs. In 2006-7, I was chair of Section V–the committee devoted exclusively to appraising new graduate programs.